Sherpa Chai Expedition
शेर्पा चिया अभियान
Trekking Nepal in the Sacred Hidden Lumding Valley with Pemba Sherpa and Carrie Simon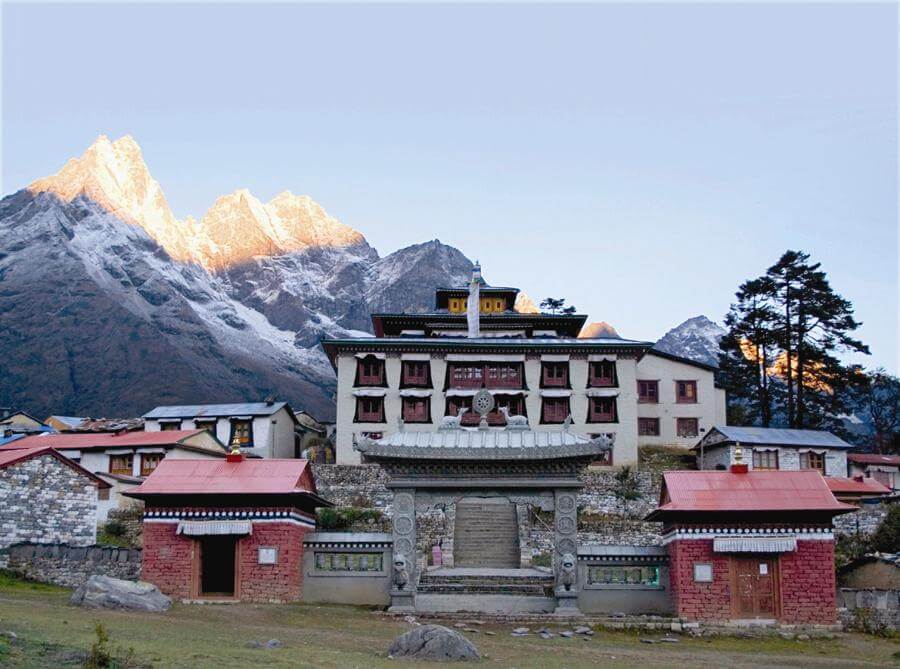 October 23rd - November 7th, 2021
Pemba is the author of Bridging Worlds "A Sherpa's Story".
He will guide this trek again in 2021, taking us into the heart of the world's majestic Himalayan mountains and into the rarely visited Sacred Hidden Lumding Valley. Very few Westerns have ventured into this completely unspoiled valley!
We will be surrounded by striking scenery as we trek through virgin terrain, while marveling the views of Everest and its neighbors. We will also spend time with Pemba's family in the small Sherpa Village of Sengma. It is here that we will relax for a couple of days.
Detailed Itinerary
Day 1. October 23rd, Depart for Kathmandu.
Day 2. October 24th, en route to, Kathmandu.
Day 3. October 25th, Arrive in Kathmandu.
Upon arrival in Kathmandu, you will be met by our Nepalese crew and transferred to the Hotel.
Day 4, October 26th Kathmandu.
This morning we will depart for the Great Stupa of Boudhnath, one of the world's largest stupas, and one of the most significant sites of Buddhist worship in the world. Built on an octagonal base, this colossal structure is said to contain the relics of the "Mahakashyapa Buddha", the Buddha of the previous eon. One hundred and eight images of the Buddha and numerous insets with prayer wheels encircle the base of the stupa which represents the religious center for Kathmandu's Tibetan refugee population. In the morning hours hundreds of Tibetans can be seen circumambulating the stupa, chanting and turning the prayer wheels.
From here we continue to Bhaktapur, the earliest of the valley's three major cities that achieved the status of *great levels of art*. The city has been extensively restored as the result of a massive aid project funded by the government of Germany. Discover the magnificent architecture of the Attatraya Hindu Temple and the Old Palace dominated by intricate Newari wood carvings. There will be plenty of time to stroll and visit the shops where traditional Nepali and Tibetan artifacts are sold.
In the afternoon we set out for Pashupatinath, one of the most famous and important Hindu temples in Nepal. Over the years, the temple has drawn thousands of devotees, including many Sadhus; the wandering ascetic holy men. Pashupatinath is also used as a place for cremation and the burning ghats in front of the temple, which bear witness to many royal cremation ceremonies. It is likely that at any time of the day a cremation ceremony for the common people may be witnessed.
Our official welcome dinner will be held at our Sherpa guide Chhonga's house. We will enjoy the wonder of the local atmosphere and traditional Nepali cuisine; located in the heart of Kathmandu. We start our welcome with cocktails in the courtyard followed by a trip introduction and overview.
Day 5. October 27th Sengma (9,000 ft)
A morning flight takes us to the tiny airstrip of Lukla located at 9,350 ft. Landing in Lukla is one of the highlights of any trip to this region. The runway goes uphill with a wall marking the end of it!
Lukla is the starting point for many trekking and mountaineering expeditions including those who head to Mt. Everest. Here we pick up our trekking supplies and meet our trekking crew which includes Sherpas, porters, our own cook, and yaks.
We begin our trek leaving Lukla, down the main street where many shops sell mountaineering goods, prayer flags and hot chai tea. Our route follows the Dudh Kosi River as we head for the Sherpa village of Sengma, where Pemba Sherpa grew up. We descend about 1,000 ft. Do not be surprised though… descending in the Himalayas means up and down and back up, and at the end of the day you will have actually descended! Since this is our first day of trekking, we will take it easy… we should reach Sengma within 2 to 3 hours.
Accommodations : Camp
Meals : Breakfast, Lunch, Dinner
Day 6. October 28th Sengma (9,000 ft.)
Today we will hike two hours to the Village of Tate. After that we head to the village of Rongding, which should take approximately an hour, then hike back to Sengma. Once we are back in Sengma, we will spend some time with the villagers and experience a Sherpa's way of life.
Accommodations : Camp
Meals : Breakfast, Lunch, Dinner
Day 7. October 29th Tongu (12,600 ft.)
Today our journey takes us across a small river. All the while we pass through a magnificent fir forest, viewing rhododendrons and magnolias, which grace the landscape. We climb up to our campsite at Tongu. From here we will catch our first glimpse of some of the most impressive peaks of the Himalayan Mountain Range. We will celebrate the first leg of our journey with a campfire this evening!
Accommodations : Camp
Meals : Breakfast, Lunch, Dinner
Day 8. October 30th Lumding Valley (12,800ft.)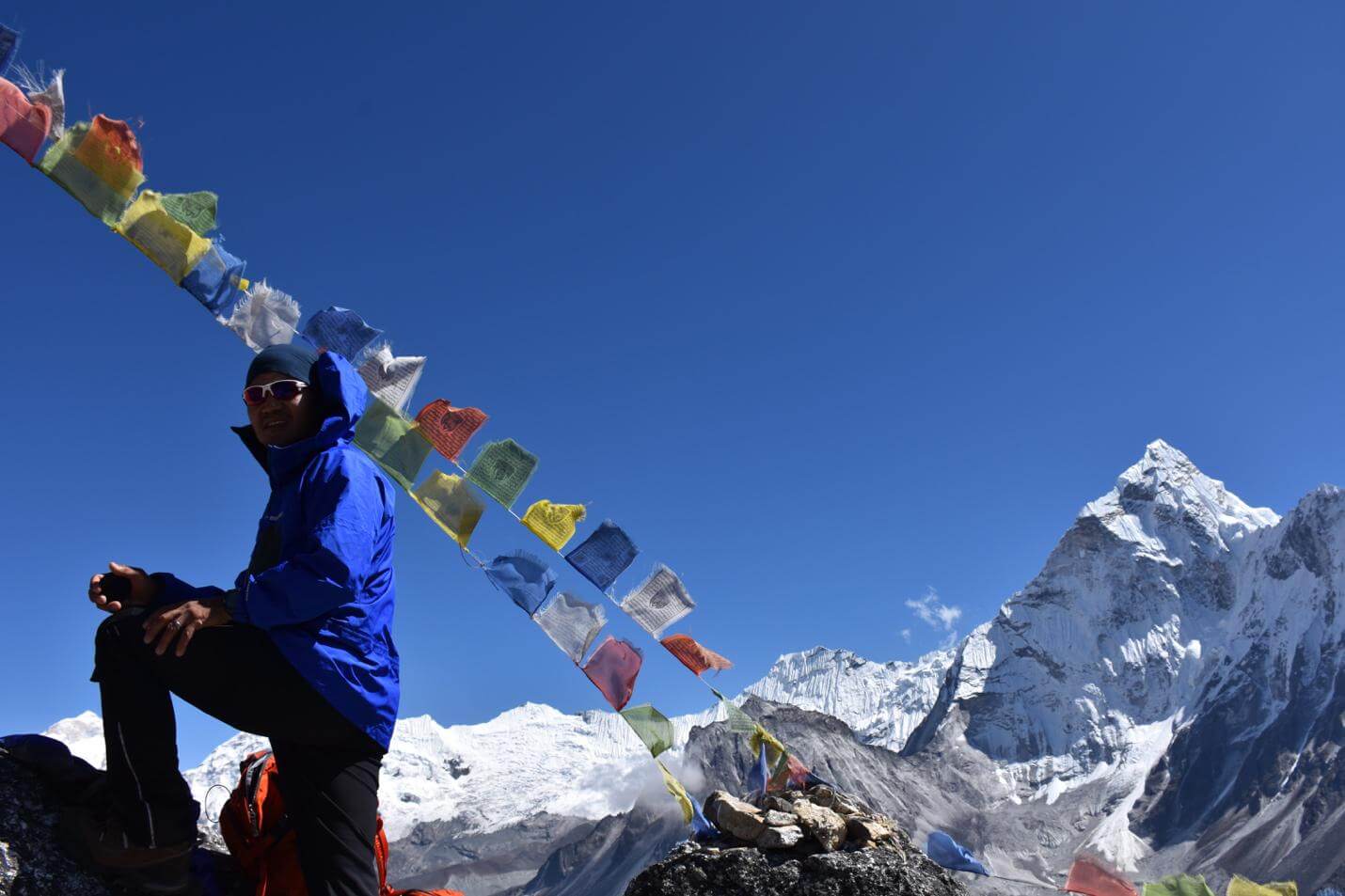 We continue our journey towards the long hidden and rarely visited Lumding Valley bounded to the West by the tumbling glaciers of Karyolung, Khargang, and Numbur.
The first exploration of Lumding Valley by a Westerner was made in 1953 by Jimmy Roberts and followed in 1954 by Fred Becky. During Fred's attempt on Kwangde Shar, he discovered one of the world's highest mountain lakes, Lumding Tsho Teng, which can only be reached by experienced climbers and mountaineers.
Lumding Valley itself is a green oasis, an emerald blanket that spreads along the foothills of the snow-covered summits, looming in the distance, with fresh mountain streams glistening in the mid-day sun and its landscape dotted by a few secluded Sherpa huts.
We cross Lumding la 14,800 ft. and descend back down to Lumding. We will set up camp near Lumding River and listen to the Sherpas tell stories about long-forgotten expeditions to this remote corner of the world.
Accommodations : Camp
Meals : Breakfast, Lunch, Dinner
Day 9. October 31st. Lumding Valley. (12,800ft)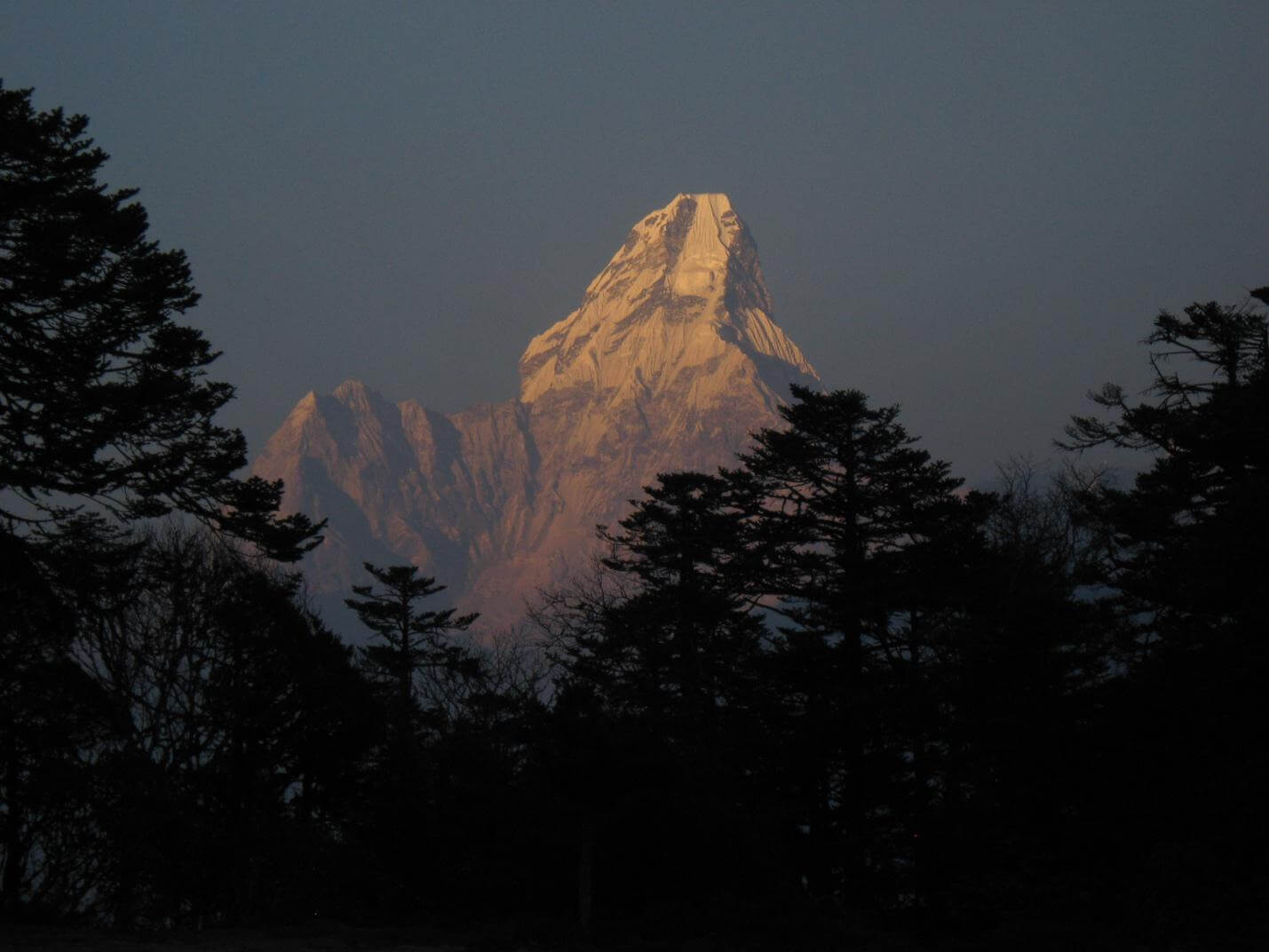 We will spend the day exploring the valley where there have never been any houses or lodges. Only the home of grazing yaks. One of our excursions will take us to a small waterfall where we will enjoy lunch.
Accommodations : Camping
Meals : Breakfast, Lunch, Dinner
Day 10-11. November 1st-2nd Chuserma (9,000 ft.)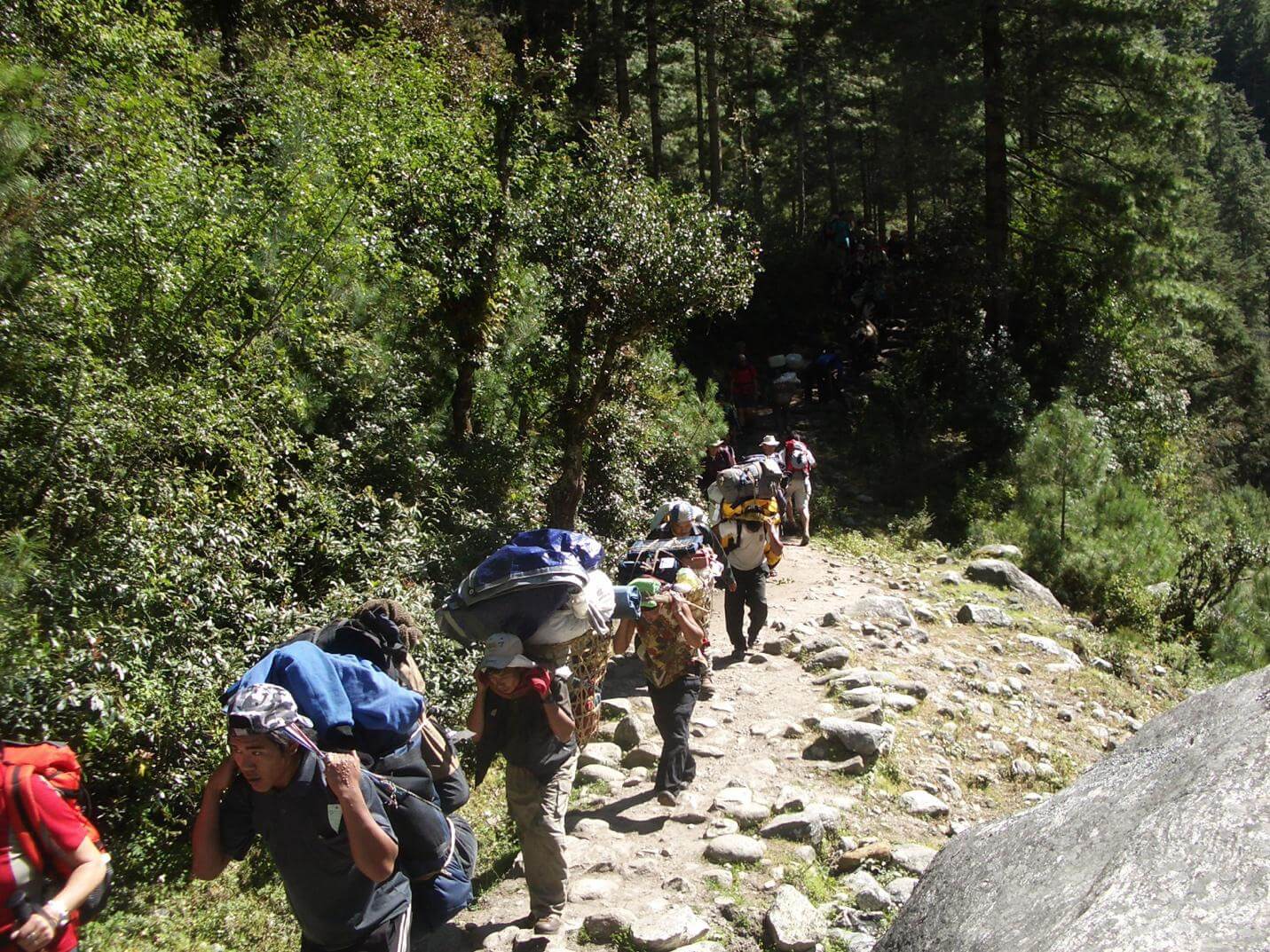 As we leave Lumding behind, we climb along a wide ridge and descend to Chuserma, a Sherpa village. Here we will explore a Sherpa's village life, which includes visiting a monastery, a school, and enjoying delicious meals, while listening to traditional music that is played while the Sherpas dance and sing. This continues until the early morning hours. You are welcome to join the singing and dancing for as long as you can stay awake!
Accommodations : Camp.
Meals : Breakfast, Lunch, Dinner
Day 12th. November 3rd Lukla (9,350 ft.)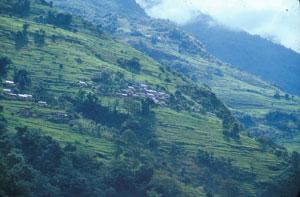 We continue the final leg of our trek back to Lukla. The town is always bustling with expeditions getting ready for their Himalayan adventure. Here we will settle into a comfortable guest house overlooking the little airstrip. You are welcome to explore Lukla on your own.
Accommodations : Guest house
Meals : Breakfast, Lunch, Dinner
Day 13th. November 4th Kathmandu.
We will take an early morning flight departing from the "memorable" Lukla airstrip back to Kathmandu. Remainder of the day will be at your leisure.
Accommodations : Hotel
Meals : Breakfast
Day 14. November 5th Kathmandu.
Enjoy a free day in Kathmandu. Relax or finish some last-minute souvenir shopping.
Accommodations : Hotel
Meals : Breakfast
Day 15. November 6th depart for U.S.
Depart Kathmandu today or… Should you wish to extend your time in Nepal we will be happy to assist you with additional arrangements.
Day 16. November 7th arrive US.
Although international airfare is not included in your trip, most flights from Kathmandu back to the U.S. will require you to spend a night in either Bangkok, Hong Kong or Singapore. Most travel agents will assist you with hotel bookings.
Trip Notes:
In addition to your personal gear, you should bring a sleeping bag (rated 0 degrees or less), a daypack, and a large duffel bag with a double zipper that will accommodate a TSA lock, for the flight, porters and/or yaks that carry your personal gear. You will be provided with a two-person tent, full-length foam sleeping pad, all commissary gear, and eating/drinking utensils.
All personal gear, camp stools, folding tables, and dining tent are carried by porters and/or pack animals. Trekkers carry only a daypack with water bottles, camera, extra jacket, and items you may need during the day. A full equipment list is provided after sign-up.
Participants should be in good physical condition with hiking experience at or above 14,000 ft. Please check with your physician to make sure that you are in good condition to handle the rigors of high-altitude trekking!
Registration Information
Tour Dates: October 23rd – November 7th, 2021
Cost: $ 2,950 (Cost is based on double occupancy.)
Single room supplement: $ 420
Tour cost includes:
Flight from Kathmandu to Lukla, Lukla back to Kathmandu
Accommodation in double occupancy as listed
All meals during our camping/trekking days
Meals as listed while in Kathmandu
All sightseeing and trekking accompanied by Pemba Sherpa
All ground transportation in Kathmandu
Service of porters, cook and trekking staff
Tents and foam sleeping bags
Trekking permits
Airport transfers in Kathmandu
Not included are:
International airfare in and out of Kathmandu
Visa and passport fees
Airport departure taxes
Tips to guides and drivers
Travel insurance
Items of personal nature
EXPEDITION LEADER – Pemba Sherpa
Pemba Sherpa grew up in the Khumbu region of the Nepal Himalayas. Pemba has been guiding trips to this part of the world since 1986. He has led over 20 trips to Nepal for the Colorado Mountain Club and the HEC, including Island Peak, Lobuche Peak, Chulu East, and Ama Dablam. He has lived in the Denver, Colorado since 1991, but spends three to four months a year guiding trips throughout the world. He is the author of Bridging Worlds a Sherpa's story.
EXPEDITION LEADER - Carrie Simon
Growing up in Boulder, Colorado has provided an opportunity for her to hike this beautiful state. She loves the outdoors and spends as much time as possible, leading hikes for Colorado Mountain Club or for family and friends. When not leading trips, you will find her hiking, camping, backpacking, along with various winter excursions with her dog. Carrie has spent time hiking in Nepal, Hong Kong, Canyon Lands National Park, Moab National Park, Zion National Park, Yellowstone National Park, and several places throughout Colorado and Wyoming. Each time she visits Nepal the love affair grows stronger for the rich culture, sweet people, laid back attitude and the jaw dropping beauty of the region.
We will continue to monitor and provide updates to trip participant on COVID for International travel, restrictions, and requirements. Along with any other concerns that are listed on the World Health Organization site. https://www.who.int/nepal/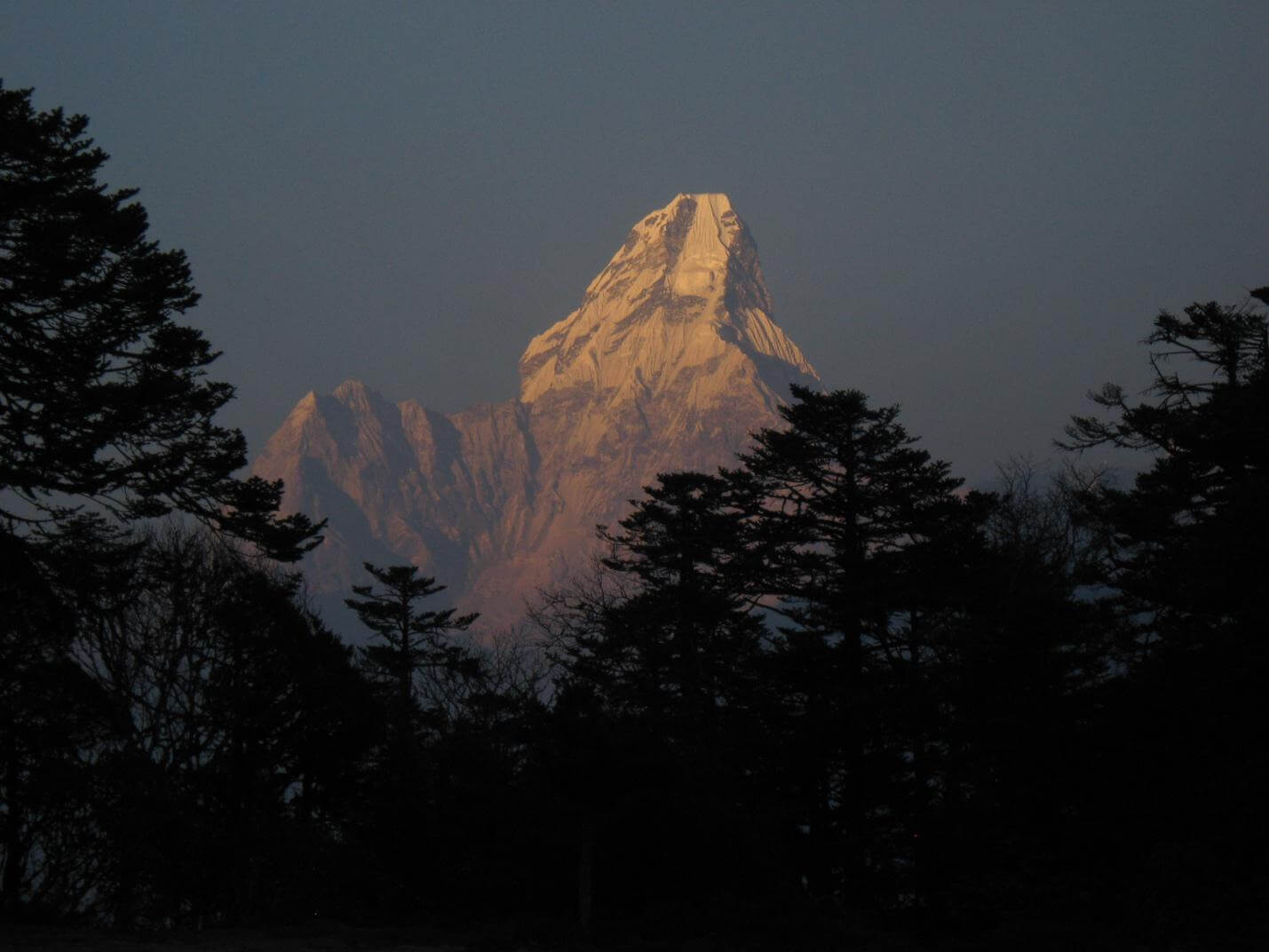 SHERPA CHAI EXPEDITION 2021
Enjoy some Sherpa Chai and immerse yourself in The Khumbu, this is the trip of a lifetime. We are looking forward to sharing this experience with you and showing the Himalayas.
(Travelers will need to register to book their travel with the team from Sherpa Chai)