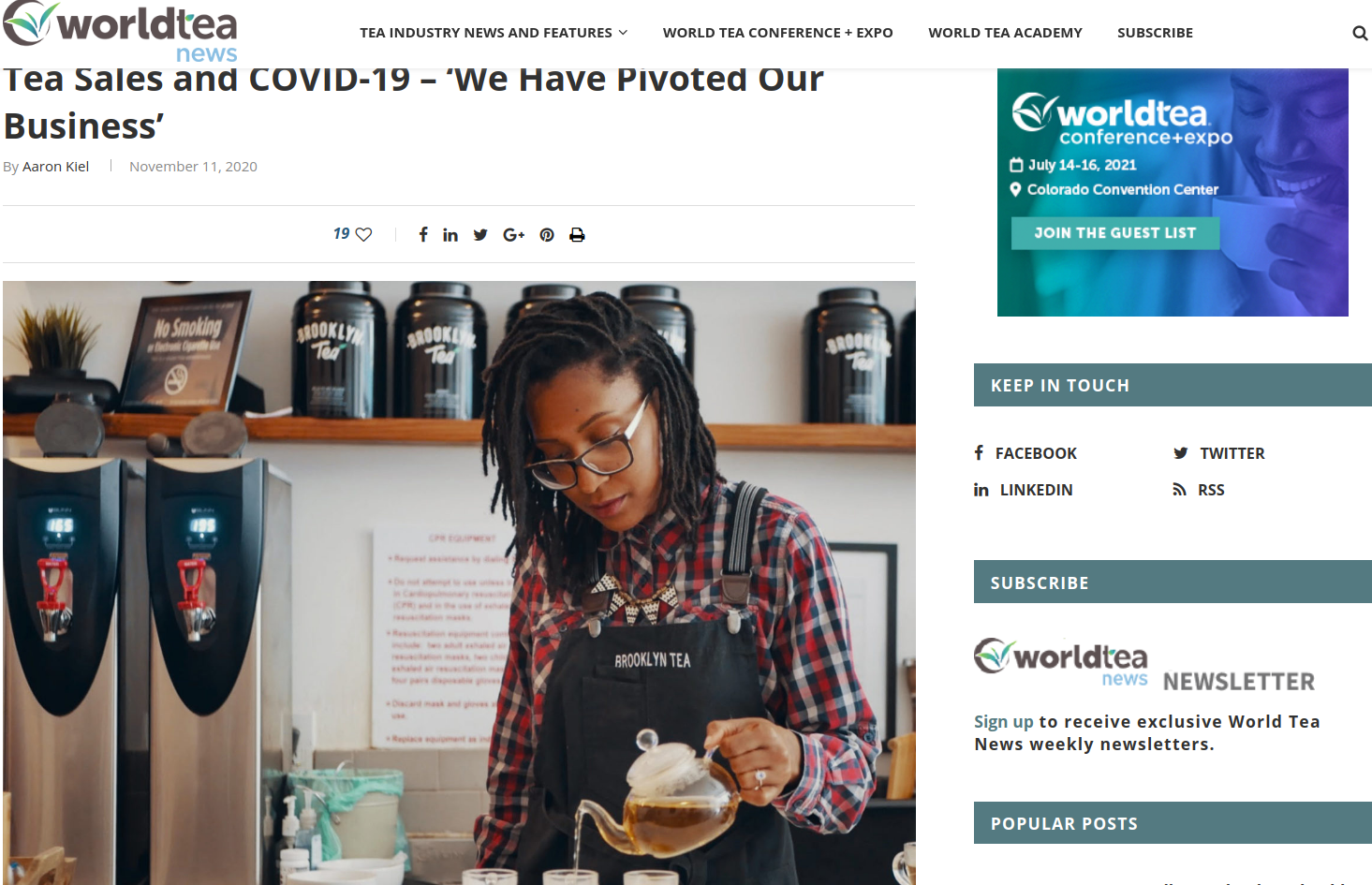 How Some Tea Businesses Are Surviving and Thriving During the Pandemic

By Aaron Kiel, World Tea News

In early 2020, after celebrating a one-year anniversary, Brooklyn Tea Company in Brooklyn, N.Y. was starting to receive some neighborhood recognition and foot traffic for its new tea shop – and it was thrilling, according to Alfonso Wright and Jamila McGill, founders of the company. Then COVID-19 forced them to shut down their indoor dining, which was the heart of their business at the time. Their daily sales declined drastically, and they had to cut employee hours and store hours.

The COVID-19 pandemic turned the lively Brooklyn Tea Company storefront into an empty lot. Between March and May 2020, their revenue fell significantly, and they feared for the company's future. Unable to serve customers in person, they shifted their efforts online, creating a virtual store and using Facebook and Instagram to reach potential customers. They sold specially-created gift boxes filled with teas known for their health benefits, while using their spare time to bring drinks to healthcare workers at a local hospital.
"Since then, we have pivoted our business to focus on online retail and have been able to bring back our staff to their regular hours," said Wright. "Much of our Facebook and Instagram content and advertising went from highlighting our local events and the lifestyle of tea to the health benefits of tea and our packaging. I think it's fair to say that with the loss of our in-person community due to social distancing and shelter in place initiatives, we turned to engaging with our online community through Facebook and Instagram, which helped us. We shared more stories, used IGTV more heavily and spent quality time answering questions in our comments and DMs. We're also so excited to be featured in Facebook's #BuyBlackFriday Gift Guide, which will help boost visibility of our brand this holiday."
Brooklyn Tea Company's first pivot during the pandemic was the creation of an Immunity Booster Box with four herbal blends to bolster the immune system and aid in respiratory health. This created a temporary boost in the company's online sales, but they still experienced an overall decline in revenue until they received some press coverage in June that immediately bolstered and sustained their online sales.
"With the success of the Immunity Booster Box, we created other tea gift boxes with more traditional teas – green, white, black and oolong – and for specific audiences like the 'New to Tea Box' and the 'Relaxing Box,'" said Wright. So far, the company's "New to Tea Box" is their best seller.

"The increase in interest for healthful, socially responsible products aligns with our mission to make high-quality loose-leaf tea more accessible to all," explained Wright. "Brooklyn Tea strives to dispel the two conflicting American preconceived notions about tea as either being a low-quality commodity you drink only when you're sick or a pretentious and expensive afternoon affair. Our New to Tea box is a great entry point into the world of loose-leaf teas."

Overall, Brooklyn Tea Company is experiencing success after adapting to the times, especially as more people are discovering specialty tea during the pandemic. "At this moment, people are eager to learn about a healthy stress-reducing lifestyle, and we jumped at the chance to include ourselves in that conversation," said Wright. "With the stress from political/social unrest coupled with the fear of illness, the temporary escape from a relaxing yet rejuvenating cup of tea is the perfect beverage for the times. We've enjoyed helping our customers on their tea journey, as they move from apprehensive to novice to connoisseurs. Our hope is that this new or renewed interest in tea continues for years to come."
Fusion Teas Sees an Increase in Sales
Fusion Teas, based in McKinney, Texas, said it's also seeing more customers turn to tea for solace and health benefits during the pandemic, which is helping to increase sales and expand the business. The tea company has a brick-and-mortar shop and an e-commerce site, and it recently increased its brick-and-mortar location from 800 square feet to 2,200 square feet. The company – founded in 2010 – focuses on high-quality teas and making loose leaf tea accessible.
"We're thrilled that more people are turning to such a healthy, relaxing beverage in this stressful, challenging time," said Theann Egbert, who co-founded the company with her husband, Thomas Egbert. "Right now, people need what tea has to offer, and we're proud to share our curated selection of truly delicious teas with folks in Texas and beyond."

Sherpa Chai Sees Triple-digit Sales Growth
Sherpa Chai of Boulder, Colo. – a maker of specialty chai concentrates – reported record sales growth across the grocery channel during the pandemic. Famous with chai/tea lovers across the United States, the company specifically experienced triple-digit dollar sales growth (+122.8 percent) in its latest quarterly report of data through Q3, propelling the popular brand into a top-growth spot within the shelf-stable tea concentrates category nationally.

In fact, according to data from SPINS, a leading provider of natural/organic food industry marketplace consumer sales intelligence, the total grocery channel sales of shelf-stable concentrated teas (including chai) in the U.S. increased by +26.1 percent, as compared to the same period a year ago. Leading the charge during the pandemic has been Sherpa Chai. SPINS said this is largely due to Sherpa Chai's expansion of retail distribution to the Pacific Northwest this past September. That expansion propelled the company to the No. 5 ranked brand nationally during the pandemic, where national brand names typically dominate the category.

"Growth within the retail sector has been tremendous for Sherpa Chai," said Sherpa Chai CEO Dave McKean, "and we've been fortunate to create synergistic relationships with retailers and buyers that share our values as a brand. Even during this international health pandemic, which eliminated significant revenue streams among our local foodservice channel, Sherpa Chai has significantly exceeded all sales and profit goals established for 2020 due to our growing retail distribution."

With an increased national market share of +73 percent year-over-year, Sherpa Chai said it remains focused during the pandemic by standing out from the crowd, expanding retail placement and delivering innovative offerings.

Overall, while interest in tea may have increased during the pandemic, it's still been extremely challenging for many tea businesses. In early spring, Sinensis Research reported that as of mid-April, a total of 2.3 percent of tea businesses have permanently closed, and 81.8 percent of specialty tea businesses have laid off staff. There's also been a total loss of around 9,200 tea-related jobs, and individual tea shops that do remain open can expect sales to potentially decline between 20 and 80 percent this year, depending on the region.
News Link : Tea Sales and COVID-19 – 'We Have Pivoted Our Business'