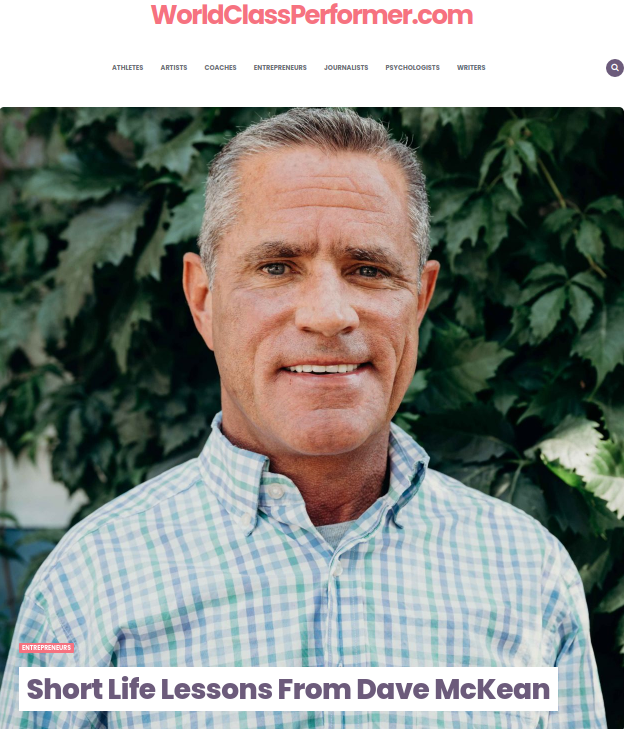 Dave McKean is the Owner and CEO of
Sherpa Chai LLC
, a food and beverages company based in Lafayette, Colorado. He has over 35 years of experience in high-level business development, encompassing media, software, the global hospitality industry, and most recently in the consumer packaged goods (CPG) industry.
Where did you grow up and what was your childhood like?
I grew up in the D.C. area, and I spent half my time in Washington, D.C., and the other half in a little town in Delaware on the beach, which is more my hometown. I don't have any ties back to the D.C. area anymore. I still have a house in Rehoboth, and two of my kids are there right now so, we spend a lot of time there.
My dad was kind of a self-made man, got himself through law school, became a lawyer. Then he got into the business through the law work he was doing and was an entrepreneur who owned multiple companies over the years. He always told my three brothers and me that if you want to succeed in life, you got to own it. That's the only way you'll be happy and prosperous – and at the end of the day, it worked. I built up two companies and sold them, and this is the third one. My three brothers are all entrepreneurs. My brother Mike works for a software company, my brother Jack is a consultant in the construction world, and my other brother is a consultant in software for the banking/finance world. Every one of us has gone on to be entrepreneurs, and that's due to the dad that raised us.
Did you have any particular experiences/stories that shaped your adult life?
I think it was the last year that I worked at the Discovery Channel, which was the last time I worked for somebody else. My job was to supply programming to the joint venture with the German-speaking territory. And the only way to make that happen was to go out into the marketplace by programming, resell it, and then serve it up on the German network. We didn't have enough inventory back home at the Discovery Channel in the U.S. to supply the network needed, so that's what I did. I went out, bought programming, and then bought extra rights to resell it to the three TV markets and other territories, and then that would allow the profit from that to support the network in Germany. The final year that I was there, the head of programming and myself generated 13 and a half million dollars for the Discovery Channel.
We generated quite a lot of revenue that supported the channel, which was all good, but I realized nobody actually cared. That's when I quit and my brother and I started our first software venture together. That went on to when I finally cashed out, we were 500 plus employees, five regional offices, and software from this company still is one of the number one companies in the hospitality industry today, doing 30 million-plus in.
I actually had sat around with my father at one point. I was in Germany, so it was on the phone and I was talking to him and I was telling him the numbers that we were generating and what we were getting paid and my father was like, you should be working for yourself – he was right.
What is something you wish you would've realized earlier in your life?
I wanted to own my business. However, as a 20-28-year-old, and even as a 31-year-old, you're still building a lot of infrastructures that will allow you to start your own business eventually. You have to understand a lot more about business, and I wished I had taken more accounting and finance classes in my student days. Big mistake when I only took accounting and finance the very last semester and my dad had been harping on me to take those classes since I started college and I didn't. These have been the most valuable classes I took all through college. I'd say if there's one thing I wish I had realized earlier was to take more of those classes because you need them in life.
What are bad recommendations you hear in your profession or area of expertise?
Generally speaking, the only thing I can think of is to never listen to the people who tell you not to chase your dreams. That's the worst thing – Just do it, take the chance, make the shot. The net result is always going to be a better one. You may fail, but keep up, get up, keep going, do it again, and eventually, you will be successful.
After selling a big chunk of my software company, I became a full-time lacrosse coach to my son. The advice I always gave everybody on the lacrosse team and every game before every match is that you can't score if you don't shot. So you've got to take the shot, take the shot, take the shot. Eventually, you find success but, do not let somebody tell you not to take the shot. Cause if you don't take it, you're never going to score. You're never going to be successful and never going to be happy.
Tell me about one of the darker periods you've experienced in life. How you came out of it, and what you learned from it?
I wouldn't necessarily call it a dark in my life since I don't have a lot of medical history or injuries, and my kids are all healthy. However, the darkest period for me was when my father passed because, at that point in building our company, we were just starting to go over the edge of being pretty successful. It would have been nice for him to see that, to see the end of it, to see the success built out of that. But back in those days, I spent a great deal of time talking to my dad about business, probably two or three days a week.
I would sit with him or go by the house, or talk on the phone about business and lawsuits that we faced and how we handle this and that. That was a huge benefit to me to have his insight, and when he passed, there was a period for about eight months when I felt myself wanting to pick up the phone and call him. Eventually, you got through it, but it's mainly the grieving period. But life, as I said, I feel very grateful.
What is one thing you do that you feel has been the biggest contributor to your success so far?
It's challenging, but you have to be patient with people, with time, and with the next steps. These things are critical elements of eventually being successful. I think that I have started to learn to be patient. It is a daily challenge, you just have to remember that nothing happens overnight.
Another thing is that to be successful in anything, you got to surround yourself with smart people, and even more intelligent than you, no matter the industry you're in. Sherpa Chai is part of the consumer packaged goods industry, and I come from software, service business, vastly different industries.
When I started to get involved with Sherpa Chai, I was talking to my old boss from Germany, who I am still close with, and he said to me: "What do you know about consumer packaged goods?" and I was like, "I don't know anything, man." He's right. You got to surround yourself with people who know more than you so that they can teach you; otherwise, you're lost.
Pemba, Founder of Sherpa Chai, has a spirit of giving back, and it's part of the Nepalese culture; frankly, it's infectious. That has been something new to me, and I want very much to participate in that. We created a COVID fund and we're raising money for COVID relief in Nepal, we are working with a group that helps foster children find homes, among other things. My wife and I adopted a little girl, and Pemba has adopted kids as well over the years. I think this is part of the Sherpa culture which is something that they have taught me that I am most grateful for.
What is your morning routine?
I typically wake at five in the morning. Depending on what I've got coming up in the morning, I work out for 35- 45 minutes, maybe an hour. Then I'll have a cup of chai and I feed all of our four dogs. Occasionally, I have to go out and feed the horses too, but usually, that's my wife's duty.
I like getting into the office by seven in the morning because I find that first hour and a half of quiet time an excellent time to get stuff done before everyone gets there and things start really humming. Yes, I wake up early, but I also try to get to bed early. I try to get in bed by 9:30 at the latest and be asleep. Usually, I fall asleep immediately because I'm exhausted, but that is my usual morning routine. I do feel that physical activity in the early morning is always great, and it is the main thing that wakes me up.
What habit or behavior that you have pursued for a few years has most improved your life?
Exercise has always been a habit of mine. I work out pretty much five or six days a week. I'm mid-fifties now, so I'm not going for maximum bench presses in the gym or any of that kind of crazy stuff. But I got tired of driving to a gym and then driving to the office, so now I have a gym in my basement where I can work out. Then I will do that, get my morning stretching and a moderate exercise every morning. I think that is one of the things that has certainly made my life a lot easier. I see plenty of friends my age who don't work out, and the net results are not good. They ended up with health issues, getting sick all the time, and I rarely, if ever get sick.
What are your strategies for being productive and using your time most efficiently?
Getting into the office early in the morning allows me that time to line up the stuff for the day. That strategy gives me a little bit of clarity throughout the rest of the day. Since I have that time to sort of pre-digest the day and expect what I got to do, and here's where I have to be, etc. Definitely makes me more efficient in everything.
What book(s) have influenced your life the most? Why?
Several books have been very influential in my life. The first and foremost is the book Liar's Poker by Michael Lewis. I'm a huge fan of Michael Lewis now. I've got almost all of his books, but I read Liar's Poker as a senior in college, and it was talking about his time at the London School of Economics and getting his first job at one of the big Wall Street bonds traders. At that time, it changed my direction in life because it made me want to attend the London School of Economics, which I eventually did and got my master's degree from.
Another influential book is Jim Collins, Good to Great. Jim Collins has now written more than half a dozen books on company structures and what makes a good company versus a great company. I have to say that book really was a powerful impact on business and taught a lot about different things that, frankly, I hadn't thought about, but most importantly was to the idea that if you get really good people working for you, then it doesn't really matter what job you put them in. They will excel at it. You just got to find good people, get them on the company bus, and find the right seat so that you can move around anywhere, and they will generally excel at whatever they have to do, as long as you've got good people. That strategy has served me very well.
Do you have any quotes you live by or think of often?
One of them is kind of a funny one, and it has a lot to do with perspective on the product that you produce. I fall back on the old quote by Henry Ford: "If I had asked people what they wanted, they would have asked for faster horses." I always thought that was pretty important to keep in mind.
Another quote from Jack Walsh, it's something that I was taught in my time in the Naval ROTC training, and says: "As the leader, you always have to put your team first." What Jack Walsh said was, "before you're a leader, success is all about growing yourself personally, but when you become a leader, success is all about growing others." I think that there's a lot of truth in that. It not only supports your people, but you always have to be pushing them forward and making them grow. That kind of backing and support means that you'll have a team behind you. In addition to that, pushing them forward is a better way to make everything you do better because clearly, you can't do it alone. Sometimes you want to step in and take charge, but you got to let them run with it. You got to let them make mistakes, and then you got to work with them to fix them.
News Link : Short Life Lessons From Dave McKean