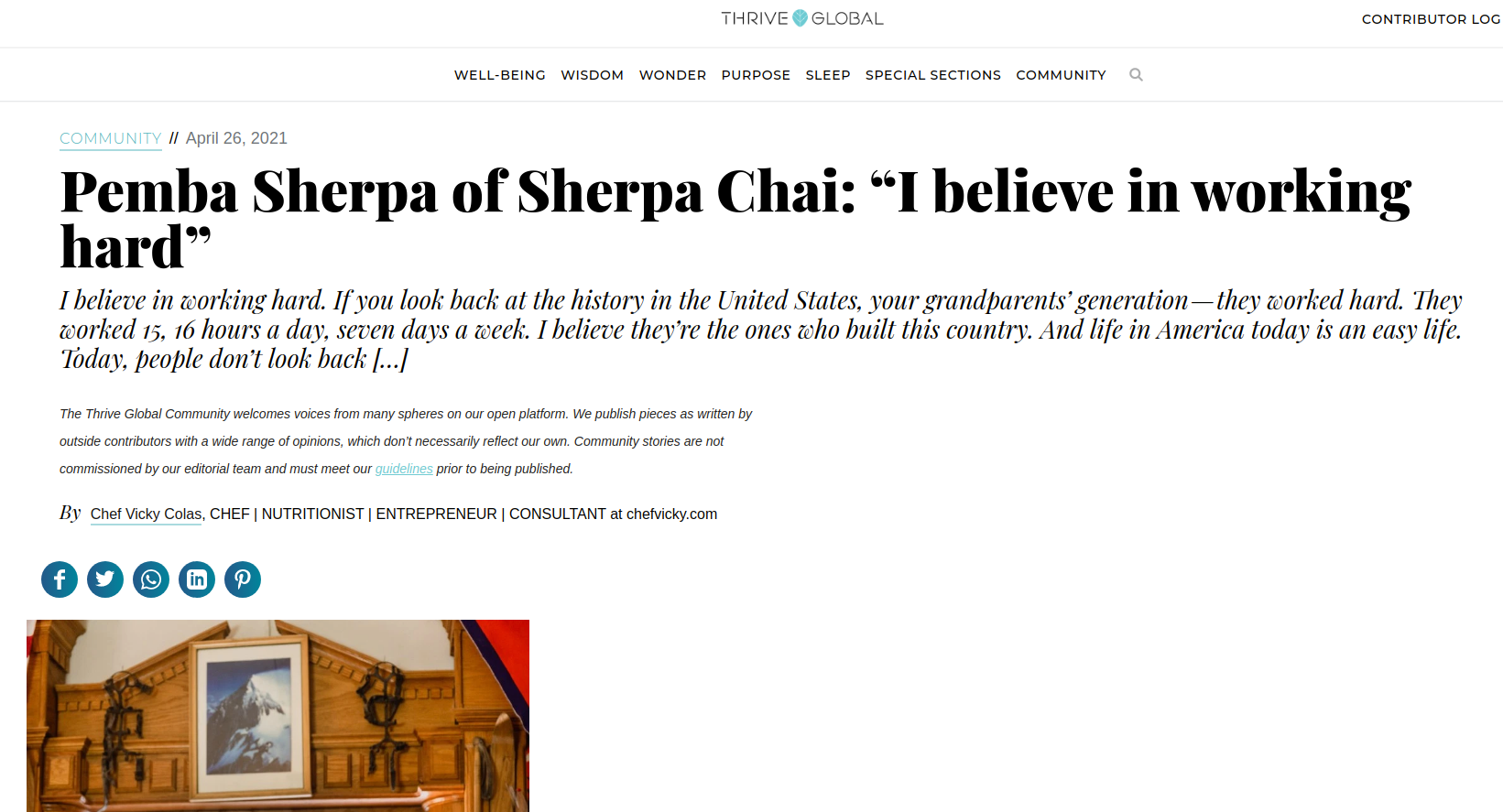 Is the American Dream still alive? If you speak to many of the immigrants we spoke to, who came to this country with nothing but grit, resilience, and a dream, they will tell you that it certainly is still alive.
As a part of our series about immigrant success stories, I had the pleasure of interviewing Pemba Sherpa, Founder and Owner of Sherpa Chai was born into poverty. Born and raised in the picturesque hillside village of Sengma in the Khumbu (Everest) region of Nepal, Pemba is a lifelong adventurer and never stops learning or redefining the impossible. He has become an accomplished entrepreneur, author, climber, and restaurateur with a passion for the mountains, outdoor adventures, and the Sherpa culture. Today, you can find his iconic passion for the great outdoors on full display at Sherpa's Adventurers Restaurant & Bar, where he can often be found sharing his love and knowledge of the Himalayan Mountains. Pemba works to improve the lives of Sherpas in the Khumbu region of northeast Nepal, overseeing many philanthropic projects. Maintaining a foot in two worlds, Pemba shares his unique perspective on the Everest expedition industry, life in America, and the changing Sherpa culture in his book, Bridging Worlds, available on Amazon and sherpachai.com.
Thank you so much for joining us in this interview series! Can you tell us the story of how you grew up?
I grew up in Nepal, in a remote village of 10 houses called Sing-Ma where there's no electricity, no plumbing, no running water, no roads. It was very different from where I live now. It was up in the mountains in the Himalayas at about 10,000 feet. It's a mountain-locked country. We're very poor from poverty, a harsh environment, and harsh conditions. So yes, where I grew up is a beautiful place but it has pretty terrible conditions.
Was there a particular trigger point that made you emigrate to the US? Can you tell us the story?
Yes. When I was about 14 years or so, I started working for the tourism industry, helping climbers get to the mountains. Then later, when I was about 16 or 17, I became a guide there, a professional mountaineer guide. After guiding for a couple of years, I developed a curiosity for the West. Also, I kind of sensed that there are more opportunities in the West and I was finally able to come to visit the U.S. in 1991.
Initially, I was just going to stay here for a few months. Maybe find some hard job and perhaps make some money and then go back. But I discovered more opportunities, here and there. Of course, I moved straight to Colorado where the Rockies and landscapes are somewhat similar to where I grew up. So, that's what I sensed and I found myself home here.
Also, I had guided many people from Colorado in the Himalayas, so I knew people here. And so, with that connection, I settled in Colorado.
Can you tell us the story of how you came to the USA? What was that experience like?
It certainly wasn't easy for me, but I am very thankful that I knew lots of people here and that they were so supportive in terms of helping me find English classes and as well as some manual labor jobs, here and there.
It took me at least a couple of years to get the things developed like learning the language, culture, and the system. After a couple of years, I figured things out that made it a lot easier.
As I mentioned earlier, I grew up in extreme poverty and later became a professional modern guide, both of which were very difficult. Growing up, I learned how to deal with difficulty and how to be patient. I believe the key to success is patience. People need to have patience to achieve success. When I first moved to the U.S., I got a job as a gardener and as a dishwasher. Many people would see that as beneath their dignity, but for me, that was the opportunity. I viewed those opportunities differently than others and that has made a big difference in building my life.
Is there a particular person who you are grateful towards who helped make the move more manageable? Can you share a story?
Yes, several climbers including Jim Antol, who was extremely helpful to me. He taught me so many things. Also, Cliff Armstrong, one of my Himalayan climbing friends who died in a climbing accident about 10 years ago. And there have been so many others who helped make my process of settling in so much better. Without them, I probably would have figured it out, but it helped make the process faster and easier.
For example, they helped me find landscaping and restaurant jobs as well as giving me a temporary place to stay. So, that was good.
So how are things going today?
Well, things are certainly very different now. My education is much better. I've studied hard and my language skills are a lot better. I understand how the systems work. Financially, I'm much better off. So yeah, overall, things are a lot more comfortable now.
Reflecting back to where I grew up and how I struggled to get here, I don't regret it. I now have a better perspective of life and a greater more appreciation of it.
How have you used your success to bring goodness to the world?
Everyone has some kind of belief system. I believe the source of a meaningful life is service to the common good. So, one of the best things I believe I've done in my life is building the bridge in my village. I grew up in this little village where it took three hours every morning to walk to school one way, and three hours to walk home each day.
I never forgot the memory of how difficult it was to walk to school and back home, and the memory of my best friend falling into the river and never seeing him again. So, I always wanted to build this permanent suspension bridge in my village. That was nearly 20 years ago. I was able to build the suspension bridge with the help of a guy named Ken Stover, who actually donated all of the funding.
Accomplishing that was one of the most meaningful things I've done in my life.
Now, the kids can walk to school in half an hour instead of three hours each way. Before, lots of children from the village couldn't attend school because they simply couldn't walk three hours each way to get to school. But now every kid gets to attend school and people in the village can get to the market much more easily and safely. So, this was a good project for me.
You have first hand experience with the US immigration system. If you had the power, which three things would you suggest to improve the system?
I am an immigrant and received my citizenship through migrating here. This country was built by immigrants. Personally, I still don't see the problem here. The topics in the immigration reform here are once in a generation. It is an outdated system. There are so many skilled workers and it separates so many families. It keeps the undocumented people at the edge of society, unable to get right with the law. So if I had the power to change the system, I would change the law to give the authority to the undocumented people if they didn't commit a crime or come here illegally. If they are right, honest, hard-working people, I would give them a right to work and the United States simply needs workers here. For example, I run small businesses and without immigrants' help, I don't know how I would do it. So, I would definitely change those areas and maybe provide more rights to immigrants who are at the edge of society.
Can you share "5 keys to achieving the American dream" that others can learn from you? Please share a story or example for each.
I believe in working hard. If you look back at the history in the United States, your grandparents' generation — they worked hard. They worked 15, 16 hours a day, seven days a week. I believe they're the ones who built this country. And life in America today is an easy life. Today, people don't look back at that. Lots of people sort of take things for granted, they don't appreciate what they have.
I believe that more people need to learn and understand that value. Today, Americans have a good life. They work 40 hours a week, have a housekeeper, a nanny, they go out to eat. People certainly take it for granted. I believe the key to success is to work hard, focus, and be patient. Of course, you want to have some sense and a vision. I believe those are the keys.
We know that the US needs improvement. But are there 3 things that make you optimistic about the US's future?
I'm optimistic about the U.S. because the United States is a resilient country and a very giving people. For example, the Rockefeller Foundation, and many other foundations, they do such a good job supporting poorer communities around the world. In the United States, we have a lot of nonprofits that do great things. As a country, we do a lot to help people and so, because of that, I think the United States is a strong country at least for our generation. For our children's and grandchildren's generations, I see a little problem. But at least in our generation, I think we're in a good spot and I certainly feel fortunate to be here.
We are very blessed that some of the biggest names in Business, VC funding, Sports, and Entertainment read this column. Is there a person in the world, or in the US whom you would love to have a private breakfast or lunch with, and why? He or she might see this, especially if we tag them.
Facebook
Twitter
LinkedIn

News Link : Sherpa Chai launches new website