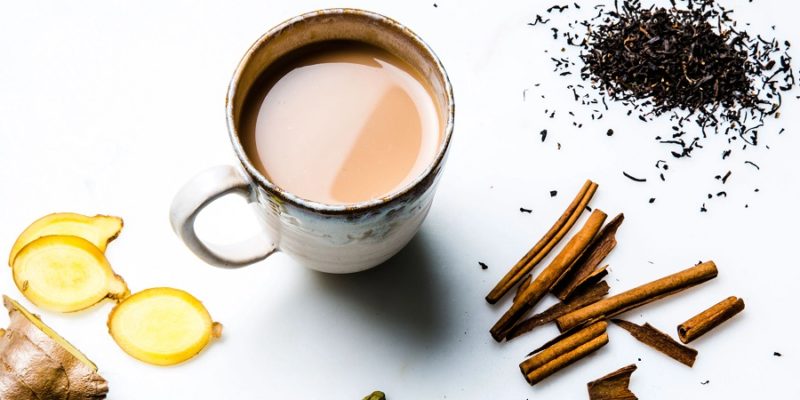 Whether you are about to start the day, need a pick-me-up in the middle of the afternoon, or want to imbibe in a calming beverage before bedtime, a cup of chai is good at any time of the day. Chai is a refreshing beverage that empowers the mind of human beings. Chai means not only tea, but it's a delightful drink with delicate spices that are very popular in both the Western and Asian countries.
Due to its delicious mixture of herbs and spices that lend to its unique flavor, Chai has made a very strong statement among everyone on the world stage. First, the subtle blend of exotic spices, herbs and tea, is simply delicious and soothing to drink. Secondly, it comes with all the benefits of authentic Indian Ayurvedic tea.
There are many varieties of chai but simply put, it's comprised of black tea with added spices. The most common spices are used in chai are ginger, black pepper, cinnamon, cloves, fennel seeds and cardamom. To further smooth out the flavor of chai, milk and milk alternatives and a variety of sweeteners are often added to make it tastier and healthier.
Moreover, chai has proven many health benefits which makes you drink it throughout the day. Whether you are trying to improve your heart health or want to stimulate the immune system, chai is a perfect choice.
So, let's explain how chai can help you stay healthy:
Health Benefits of Chai
Chai is a basic mixture of various remunerative ingredients. So it's not just one ingredient, but the combination ingredients, that makes drinking chai a healthy choice and gives consumers numerous health benefits of drinking it. Hence, it is no wonder the growing love for this chai has regained its popularity among new generations.
So, as you prepare a chai, let's delve deep into its myriad of consumption benefits.
1. Refreshes Your Mind
"Wake up! Wake up! Your chai is ready."
Due to the black tea leaves, chai tea contains more caffeine properties than coffee but far less caffeine than you find in a cup of coffee. This is why chai is an excellent choice for getting your morning started.
Generally, chai has approximately one-third the content of caffeine as a regular cup of coffee and approximately one-sixth the content of a strong cup of coffee. In effect, you will still get the stimulant effects and can tackle even the longest days with far less caffeine. Thus, you will successfully sustain a fresh and active mind.
Now, go have a chai before you start your day!
2. Improves Digestion
Chai is a perfect drink which helps you improve your digestive systems and keeps the gut healthy. The chai ingredients such as ginger and black pepper are very beneficial for digestion. Ginger stimulates circulation and delivers oxygen to organs so they can perform optimally. Black pepper helps the pancreas to produce digestive enzymes. These enzymes are catalysts that boost your digestive processes. If you have a healthy digestive system, you can avoid many severe problems such as liver disease, iron deficiency, and irritable bowel syndrome.
3. Reduces Aches and Pains
Chai's mixture of various spices also helps alleviate general aches and pains. Moreover, it also helps people with chronic pain such as arthritis. These health benefits derive from the anti-inflammatory properties of chai ingredients: ginger and cloves. Ginger is more effective in managing inflammation, which can also support the reduction in pain ranging from mind headaches to migraines. Moreover, to reduce pain, ginger supports the stimulation of circulation and delivers oxygen-rich blood cells to the areas with aches and pains. Cloves are used as a homeostatic remedy for minor dental-related pains like toothaches.
4. Relieving Stomach Pain and Nausea
Chai's added tasty essence of ginger is a popular natural remedy commonly used to treat nausea. Its known ability to reduce nausea and vomiting has been used to treat common ailments such as morning sickness or nausea during pregnancy.
5. Strengthening the Immune System
If you are planning to drink some beverages to build a healthy immune system, then drinking a cup of chai every day can help you achieve your goal. A key ingredient, cardamom, contains Vitamin C and other nutrients which helps improve blood circulation throughout the body. Black cardamom has antiseptic and expectorant properties that protect against infection, further boosting the immune system.
Let's Have a Chai!
So, what are you waiting for? Get up from your seat and make a cup of chai right now! Try Sherpa Chai, where our chai is small-batch brewed in Colorado by Sherpas from Nepal, using traditional recipes and all-natural ingredients. Our Chai tea is both delicious and easy to make. Now when you sip a cup of freshly brewed chai, you can rest easy knowing that not only does your chai taste amazing, but it's healthy too!
If you want a flavorful cup of chai right now, Sherpa Chai is superb as a refreshing any time of the day pick-me-up. Order yours, now!